Erimtan Museum – Tuesday Concerts
Erimtan Archeology and Art Museum was founded as a private institution, which includes contemporary art and museology as well as archeology and displays the collection of Yüksel Erimtan, one of the partners of GAMA Holding, in order to protect and promote our cultural heritage. The museum building, which opened in the first quarter of 2015 in the Ankara Castle Square, welcomed its visitors with a contemporary architecture that conforms to the historical texture of Ankara and also brought a breath of fresh air to the artistic activities of the city.
As GAMA Holding, within the scope of our support of art, we have been sponsoring the Tuesday concerts at the 158-person Erimtan Museaum hall which has started between 2015-2018 Art Season. Young and emerging talents along with master musicians of Turkey, perform with various programs at the chamber concerts titled "The museum Music / Tuesday Concerts". Each season at the Erimtan Archeology and Art Museum Tuesday Concerts, where the Art Direction is by Şefik Kahramankaptan, there are scheduled 16 concerts in 8 months.
For more information about concerts, please click here.
Sevda-Cenap And Foundation – Ankara Music Festival
As GAMA, following a specific program, we carry out joint activities with universities and various non-governmental organizations, especially in the fields of education and culture. With the support we provided between 2009-2017, for the annual Ankara Music Festival organized by the Sevda-Cenap And Foundation we contributed to the realization of the festival.
Publications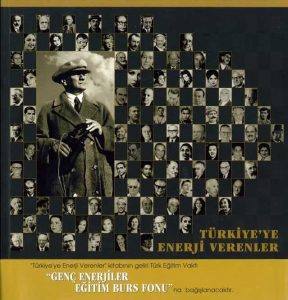 Energizing Turkey
All profits from "Energizing Turkey", the book prepared to celebrate the 50th anniversary of GAMA are being donated to the Turkish Education Foundation.

An Istanbul Story From a Dream to Reality: Marmaray
The story of the Marmaray Project carried out by TAISEI – GAMA – NUROL, one of the milestones of our transportation sector, was published as a book by GAMA Holding.
Traces of The Past (Geçmişin Yol İzleri)
GAMA's partner C. Erol Özman tells his life story in the book Traces of the Past and all the income has been made available to the Turkish Education Association (TED) to contribute to the education of young people.